The Tidewater Community College Educational Foundation Board of Directors governs the work of the TCC Educational Foundation. Our Board shapes the Foundation's direction through its mission, strategy, and budget, and ensures that the resources and finances in place match TCC's vision. The Foundation Board meets quarterly.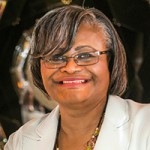 Delceno C. Miles is President/CEO of The Miles Agency, a Virginia Beach-based niche marketing and public relations firm she founded in 1989. Ms. Miles' areas of expertise are public relations, special events, multicultural marketing and community outreach. She is an adjunct professor of strategic communications at Regent University.
Ms. Miles has extensive involvement in civic and business organizations in Hampton Roads. She serves on the boards of the Hampton Roads Chamber of Commerce (regional and Virginia Beach Division) and the Beachevents Steering Committee. She is chair of the board of trustees of the Virginia Aquarium and Marine Science Center Foundation. She served on the boards of the Museum of Contemporary Art (MOCA), and Senior Services of Southeastern Virginia where she is the immediate past president. In 2017, the Virginia Beach City Council appointed her to the TCC College Board.
She was appointed in 2002 as the first African American and only the third woman chair of the Hampton Roads Chamber of Commerce regional board. She was elected to the Virginia Beach School Board and served as vice chair for two years.
Ms. Miles holds a master's degree in strategic communications from Regent University and a bachelor's degree in psychology from Stanford University. She completed the Advanced Management Education Program at the Kellogg Graduate School of Management at Northwestern University, as well as the Minority Business Executive Program at the Amos Tuck School of Business Administration at Dartmouth College.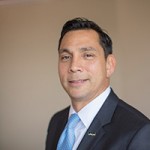 Andrew (Andy) Hodge is Regional President for Union Bank & Trust in the Coastal Region, a position he assumed in December 2017. The region includes 23 retail branches, 7 commercial banking offices, over $1B in commercial loans outstanding and a full service commercial banking team.
Andy is responsible for managing the commercial team, including 4 team Leaders, 11 commercial bankers, 9 business bankers, 3 portfolio managers and 11 commercial banking assistants. The region's priorities include loan and deposit growth, diversification of the commercial portfolio and building an efficient commercial platform.
Headquartered in Richmond, Virginia, Union Bank & Trust has been in existence since 1902 and has over 140 branches and approximately 216 ATMs from North Carolina to Maryland. With over $13B in assets, Union Bank & Trust is the largest headquartered Bank in the state of Virginia
Andy is a graduate of High Point University in North Carolina and holds an MBA from the George Washington University in Washington D.C. He has spent the past 17 years in commercial banking with BB&T and PNC Bank, and now Union Bank & Trust. Prior to banking, he spent 5+ years working for a furniture manufacturer.
Andy is married to his wife, Kirsten Hodge, who holds a doctorate in neuroscience and is a veteran of the U.S. Navy. They have three children and reside in Virginia Beach. They are avid outdoor enthusiasts and enjoy jogging, hiking and kayaking. Andy likes to play golf.
Andy is Chairman of the Board of the Museum of Contemporary Art in Virginia Beach. He is also a board member of several organizations including the Virginia Marine & Science Aquarium, the Greater Norfolk Corporation and the Neptune Festival.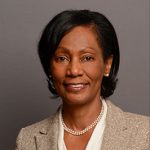 Dr. Marcia Conston
Ex Officio
Dr. Marcia Conston is the sixth president of Tidewater Community College (TCC).
Conston has worked in higher education for more than 30 years. She began her career as the director of Institutional Research at Jackson State University, in Mississippi in 1987. She went to Benedict College, in Columbia, South Carolina in 1994 to become the vice president for Institutional Effectiveness. In 2001, she became the vice president for Enrollment and Student Success Services at Central Piedmont Community College in Charlotte, North Carolina – the position she held for nearly 20 years. She has vast experience in student success and cultivating community partnerships.
Conston has also taught throughout her career, serving as a part-time associate professor at Benedict College in 1995-1996, and as an adjunct instructor at Wingate University for two years beginning in 2012. As an evaluator for the Southern Association of Colleges and Schools (SACS), Conston has evaluated 14 institutions for reaccreditation, including two Virginia community colleges.
She holds a bachelor's and master's degree from Jackson State University in Mississippi; a master's degree from Hood Theological Seminary in Salisbury, North Carolina; and a doctorate from the University of Southern Mississippi.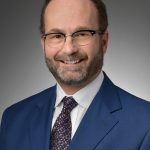 Dr. Jordan Asher is Executive Vice President and Chief Physician Executive at Sentara Healthcare. His role concentrates on creating innovative models of care delivery as well as providing national thought leadership directed towards the future of health care.
Dr. Asher is dedicated to championing quality, fostering clinical effectiveness and further cultivating a culture of excellence in the delivery of clinical services across the continuum of care. He oversees system-wide Clinical Quality and Safety, Clinical Effectiveness, the Sentara Quality Care Network (SQCN), the High-Performance Design process, Health Equity, Telehealth and Clinical Performance Improvement initiatives.
Previous Experience
Before joining Sentara Healthcare, Jordan served as Chief Clinical Officer for Ascension Care Management (ACM), a subsidiary of Ascension. Prior to ACM, Jordan was Physician Network Executive for Saint Thomas Health in Nashville, where he led the implementation and design of physician alignment strategies. In addition, Dr. Asher served as the Assistant Dean and Interim Clinical Chair of Medicine at the University of Tennessee Health Sciences Center. In this role, he forged a partnership between Saint Thomas Health and the university to establish graduate medical residency programs in several areas including internal medicine, general surgery and emergency medicine. He also served as Medical Director for a large private practice, incorporating multiple specialties while practicing internal medicine specializing in hypertension.
Current Professional Affiliations
American Association for Physician Leadership® and the American Society of Hypertension (Member)
Brookdale Senior Living Board of Directors
Healthier Hampton Roads Board of Advisors
Virginia Beach Vision Board of Directors
Health Care Transformation Task Force Executive Committee and Board of Directors
Hampton Roads Prostate Health Forum Board of Directors
Accountable Care Learning Collaborative
Temple Emanuel Board of Advisors
Ascension Ventures Board Observer
Education
University of Texas, Dallas – Masters of Science in Medial Management
Aquinas Institute of Theology – Certificate for Catholic Healthcare Ministry Leadership
Vanderbilt University – M.D.
Emory University – BS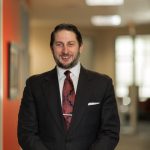 Justin Ballard is the Director of Business Development for S.B. Ballard Construction Company. Working collaboratively with his executive team, Justin oversees company operations, new business, and new development opportunities. Justin comes with 15+ years of experience in the commercial construction industry over a variety of different leadership roles and responsibilities.
Justin currently serves on the Virginia Foundation for Community College Education Board, Virginia Beach Education Foundation Board, Central Business District Association (CBDA) Board, Civil and Environmental Engineering Visiting Council (CEEVC) at Old Dominion University, the Associated General Contractors (AGC) of Virginia State Board, Builders and Contractors Exchange (Hampton Roads) Board, and a founding Board member of the Virginia Gentlemen's Foundation.
Justin is also a past President of the Associated General Contractors (AGC) of Hampton Roads, past Board of Trustee at Eastern Virginia Medical School (EVMS), and Top 40 under 40 Honoree recipient.
Justin is proud Veteran of the United States Marine Corps and happily married to his wife Kristin, with twin daughters.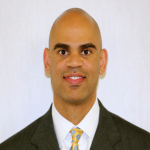 Dan Banister, Owner of Banister Automotive with locations in Chesapeake, Norfolk, Virginia Beach, and Suitland Maryland. A spiritually grounded family man who contributes all his success to God the father and is under the Spiritual Leadership of Dr. Kim Brown (The Mount Chesapeake).
His first job, a salesperson in 1992 Charlotte NC. He made it a point to learn every position in the company. "Know how to do the job before you get the job." He has worked almost every position in a dealership.
In 1998 he was given the opportunity to run a failing Nissan dealership as the General Manager. Dan was able to turn around the dealership in both sales and profitability in short order.  This kind of performance has helped him to stand out from the rest, thus earning him the title "Dan the Man." Soon after Dan was offered a position with the Victory Nissan in Chesapeake. Dan turned Victory Nissan into a household name with his unique advertising approach. His Victory Nissan radio and television ads are still talked about today. Dan wanted an opportunity to own his own store, so he left Victory in 2009 to chase this dream. In 2010, Dan's dream became a reality when he found a partner and walked back into Victory Nissan and purchased it from his previous boss.
December 2017, Dan bought out his partners and is now the principal owner of Banister Nissan of Chesapeake and Banister Nissan of Norfolk. Dan is one of 22 Black Owned Nissan dealership Nationwide and is consistently one of the top preforming Nissan dealerships worldwide.
In October 2020, Dan was approached by Ford about underperforming dealership in Maryland. Dan bought that dealership from a large dealer group in April 2021.
Dan supports many charities and community events to include, "Men in Pink," the Humane Society, The American Red Cross, and the HER Shelter, to name a few.  He serves on HRADA, The Motor Vehicle Dealer Board of The State of Virginia and other organizations. His recognitions include, 2020 Time Dealer of the Year Nominee, 2019 "Nissan Global Award" Recognizing the Top 50 Nissan dealers in the Nation, and 2018 Implementing "The Dream" of Dr. Martin L. King Jr., among many others.
Married 25 years to Beverly. He is a proud father to Dan Jr., 22 years old and daughter Jordan, 19 years old.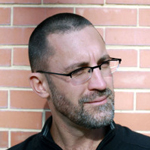 Paul Battaglia, AIA, Principal, Clark Nexsen, has over 20 years of experience as both a practitioner and an educator. He collaborates with clients and project teams to provide innovative design solutions for projects in a variety of practice areas. And, is actively engaged in a multitude of outreach and extension efforts.
He previously taught architectural design at Virginia Tech and NC State and held adjunct appointments at Virginia Commonwealth University and Hampton University. His ability to draw from and synthesize his experiences as both an academic and a practitioner serves his clients and his projects well.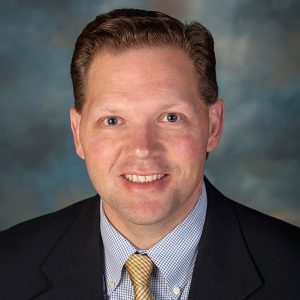 Bryant brings 25 years of leadership experience to TCC as the Vice President of Institutional Advancement and Executive Director of the Educational Foundation.
Bryant provides strategic leadership for TCC's public relations, communications and marketing, alumni relations and college events and is primarily responsible for designing and implementing TCC's institutional advancement programs for increasing community involvement, building corporate and foundation relationships, and initiating positive fundraising outcomes.
Before coming to TCC, Bryant served as the vice president for institutional advancement at Central Virginia Community College (CVCC).  Having been very successful in that position, Bryant was a clear choice to move to TCC to assume this role at a larger institution.  Just before serving at CVCC, Mr. Bryant served as the director of development for Goodwin House, a nonprofit senior living community in Northern Virginia. In that capacity, he managed every aspect of the fundraising program, including annual appeals, direct mailings, mid-level giving, major gifts, capital campaigns, and planned giving.  Prior to his tenure at Goodwin House, Bryant worked as the director of planned giving and major gifts for Capital Caring, as the director of donor relations for Presbyterian Homes and Family Services, and as a district director for the Blue Ridge Mountains Council, Boy Scouts of America.  Bryant is a Certified Fund Raising Executive (CFRE), a credential that requires extensive training, completion of a written exam, continuing education, and the achievement of ongoing performance standards.
Bryant's educational background includes a bachelor's degree in political science from Hampden-Sydney College and a master's degree in executive leadership and nonprofit management from Liberty University.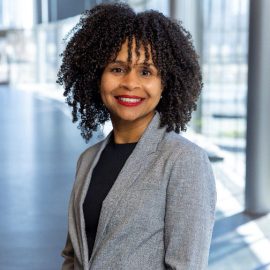 A native of Hampton, VA and graduate of Hampton High School, Tonya Byrd earned her bachelor's degree in Mechanical Engineering, magna cum laude, from Howard University in 1998. While at Howard, she became a member of both Tau Beta Pi – The National Engineering Society and Alpha Kappa Alpha Sorority, Inc., the first sorority founded for African American women. Following the completion of her undergraduate studies, she obtained an M.B.A. from The George Washington University in 2000 concentrating in Management of Science, Technology, and Innovation. In her 29th year with Dominion Energy, Tonya is Director, Community Engagement & Local Affairs. Prior to this position, she worked as an Engineer and Sr. Nuclear Training Instructor at Surry Power Station, Supervisor, Customer Account Management in Norfolk, and Supervisor, Electrical Distribution Design overseeing design teams in both the Hampton and Williamsburg offices.
No matter whether at work, or in her spare time, Tonya has a strong focus on STEM education, volunteerism & community engagement, and diversity & inclusion. In 2008, Tonya was selected as a fellow to attend the prestigious World Nuclear University Summer Institute held that year at the University of Ottawa, Ontario, Canada. Each year, the Summer Institute selects 100 nuclear professionals from across the world between the ages of 27 and 37 who demonstrate strong leadership potential. Four years later in 2012, she was featured in the Black Engineering Magazine in an article titled, "Notable Blacks in Energy: They've Got the Power" by Frank McCoy. Tonya was selected by Dominion Energy as the 2019 Benjamin J. Lambert III Volunteer of the Year – Community Vitality, and more recently in 2020, she served as Chair of Dominion Energy's African American Resource Group (AARG) – Corporate Chapter and Honorary Co-Chair of the 3rd Annual United Negro College Fund (UNCF) Hampton Roads Mayors' Masked Ball. In 2021, Tonya completed McKinsey & Company's Black Management Accelerator – Leadership Academy and is currently a member of the Lead Virginia Class of 2022 Cohort.
Tonya serves on the board of the Cheryl Jackson Tyler Foundation, Inc., UNCF's Virginia Leadership Council, and the Hampton Roads Chamber. She is also an active member of the Alpha Kappa Alpha Sorority, Inc., Lambda Omega Chapter in Newport News, VA, American Association of Blacks in Energy – Virginia Chapter, the Howard University Alumni Association – Hampton Roads Chapter, and Jack and Jill of America, Inc., Chesapeake Chapter. She attends Relate Church in Suffolk, VA.
Tonya, lives in Suffolk, VA with her husband, Dr. Stenette Byrd III, Chief of Schools, Suffolk Public Schools and their 15-year old twins. In her spare time, she travels the country running half marathons and completed her first, and only, marathon in October of 2021.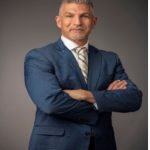 Roy Corby is the General Manager of Rivers Casino in Portsmouth.  His previous employment includes, Senior Vice President of Operations for Global Gaming Solutions in Oklahoma City, General Manager of Agua Caliente Band of Cahuilla Indians in Palm Springs, Assistant General Manager of Rivers Casino in Pittsburg, and General Manager of Casino Operations at Sandia Resort and Casino in Albuquerque.
He concluded his studies at The Art Institute of Philadelphia in 1989 and attended Arizona Western College.
He is highly skilled in the Gaming Industry.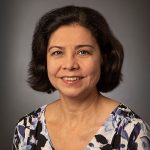 Cynthia (Cindy) S. Free, a Tidewater native, is a member of the Atlantic Orthopedic Specialist Physical Therapy team in Virginia Beach.  As such, she coordinates industrial rehabilitation, workers compensation, return to work practices, disability examinations, inventory, quality standards, students, and personnel matters.
Over the years, Ms. Free has earned noteworthy licensure and credentials in the orthopedic and rehabilitation fields in service to South Hampton Roads.  A proud TCC Alum, Ms. Free started her path on the Virginia Beach Campus earning an Associate in Applied Science in Physical Therapy in 1986.
Ms. Free has a passion for dance and graduated from the North Carolina School of the Arts. In the past, she has danced at ODU and at our TCC Roper Performing Arts Center.
In September 2015, the Virginia Beach City Council appointed Ms. Free to the Tidewater Community College Board.  Since her appointment, she has served as College Board Chair and served on the Finance & Facilities Committee.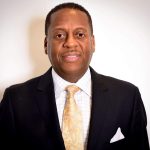 Mark is the Vice President & Community Development Manager at SunTrust, now Truist.  In this role, Mr. Johnson is responsible for overseeing the Community Development activities in the Hampton Roads, Richmond and Charlottesville Regions of Truist.
An exemplary steward of community service and champion of philanthropic efforts in the Hampton Roads community, he is consistently working to align the bank with charitable organizations and initiatives that promote positive change within the community.  Mark's continued efforts have been recognized through several awards, such as the Hampton Roads Inside Business Top 100 Power List –  the people who shape and influence Hampton Roads, the Urban League of Hampton Roads Silver Star Award, which recognizes leaders who have made a difference in their communities; and the SunTrust Bank Performance Excellence Award, which recognizes the outstanding performance of teammates in both sales and non-sales roles who demonstrate exceptional achievements in support of the bank's guiding principles (the first professional in his position to receive the award) and the National Association of Leadership Program's Distinguished Leadership Award, which recognizes exemplary service and commitment to the community (only 1 of 15 professionals who received the award across the country in 2015).  Mark was also the lead visionary in the creation, planning, and organization of SunTrust Bank, Hampton Roads' first annual of Diversity and Inclusion Awards Celebration in the Greater Hampton Roads Community in 2011 and led the effort that brought the cast members of the hit nineties TV show, A Different World, which emphasized the value of higher education and the value of Historically Black Colleges and Universities (HBCUs)to Norfolk State University in April of 2015.
Prior to his arrival to the Hampton Roads area, Mark made significant inroads in the Buffalo, New York, and Washington, DC, metro areas.  He received the 40 under 40 Award from Business First Magazine in his role at United Way of Buffalo & Erie County, the Trailblazer Award from the Buffalo Educational Alliance, and the John H. Garber, Jr., Award from United Way of Worldwide (formerly United Way of America) – one of the youngest United Way Professionals to ever receive this particular honor.
As the former Vice President of Community Funding & Special Initiatives for the United Way of South Hampton Roads (Norfolk, VA), he was the first African-American to hold this position in the company's 87-year history.  Mark was a Co-Chair of the 2019 Hampton Roads UNCF Mayors' Masked Ball in Norfolk and they raised over $160,000 to support scholarships.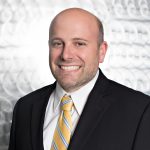 Fred Pasquine has over 20 years of experience with both large and small companies in engineering, process improvement, operations, business development, strategic planning, mergers, and acquisitions.  Before joining Fairlead, Fred held the position of Senior Director of Business Operations for General Dynamics NASSCO-Norfolk responsible for all aspects of business development, estimating, planning, engineering, scheduling, supply chain, and procurement.  He has served as Fairlead's President since 2017.
Fred has a Bachelor of Science in Mechanical Engineering from Geneva College and a Master of Business Administration from Miami University.  He is a licensed Professional Engineer (PE) and a Certified Six Sigma Black Belt (CSSB) by the American Society of Quality.  He is also a proud alumnus of the CIVIC Leadership Institute class of 2019.
Growing up in Northern Maine, Fred learned to love the outdoors, music, and football.  When not working, he enjoys restoring older homes with his wife of 22 years, exploring the outdoors with his three daughters, and playing the drum set.  He and his family live in the historic Olde Towne neighborhood in Portsmouth, Virginia.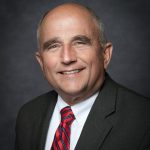 John is the former Mayor of the City of Portsmouth, Virginia, and a retired City Manager.  He was elected Mayor on November 8, 2016 to take office for a four-year term starting January 1, 2017 and ending December 31, 2020.  He grew up in Portsmouth, and Portsmouth is his hometown.
He has a unique combination of nearly five decades of public administration experience in the Commonwealth of Virginia – with more than three decades in local government management within the Hampton Roads region (on both the Peninsula and the south side of the Hampton Roads) and nearly a decade in public higher education as a college vice president for finance and administration.
John helped create several of the regional public authorities that are working within the Hampton Roads today – notably, the Tidewater Transportation District Commission which is predecessor to the region's current HRT – and – the Southeastern Virginia Public Service Authority (SPSA).
While serving as chairman of the regional planning district commission for the south side of the Hampton Roads (the former Southeastern Planning District Commission) in the 1980s, John was part of the leadership that brought about the consolidation of the Peninsula Planning District Commission and the Southeastern Virginia Planning District Commission to create the Hampton Roads Planning District Commission.
John was educated in the Portsmouth Public School System – he attended James Hurst, John Tyler, Harry Hunt, and he graduated from Woodrow Wilson High School in 1962.  He is a Distinguished Military Graduate of the Virginia Military Institute, Class of 1966.
He received a Regular Army Commission upon graduation from VMI – served five years (1966 to 1971) in the United States Army as a commissioned officer in the Army's Infantry branch.  While in the Army, John served as:
A platoon leader and company commander of a Mechanized Infantry Rifle Company in Germany
A combat advisor to an infantry battalion of the Regular Army of the Republic of South Vietnam
Assistant Professor of Military Science at Middle Tennessee State University (MTSU), Murfreesboro, Tennessee
While at MTSU – completed graduate course work, Master of Public Administration program and decided to switch careers to local government management
His military awards include the Bronze Star, Air Medal with First Oak Leaf Cluster, the Army Commendation Medal with First Oak Leaf Cluster and "V" Device, the Vietnamese Cross of Gallantry with Silver Star, the Vietnamese Armed Forces Honor Medal (First Class), the Combat Infantryman Badge, and the Parachutist Badge.
John began his work in local government in 1971 working for the then Norfolk City Manager, Bob House.  When Bob became City Manager of Suffolk in 1975, he took John to Suffolk as his Assistant City Manager.  In addition, John's career includes:
City Manager, City of Poquoson, Virginia
City Manager, City of Suffolk, Virginia
Business Executive (Vice President for Finance & Administration) for VMI
City Manager/Town City Manager, Clifton Forge, Virginia
City Manager, City of Emporia, Virginia
Deputy City Manager, City of Portsmouth, Virginia
Interim Town Manager, Windsor, Virginia
City Manager, Portsmouth, Virginia
During his career, John has served on numerous public and non-profit boards and commissions including economic development authorities, public service authorities, various Chamber of Commerce boards, the Finance Advisory Committee of the State Council of Higher Education for Virginia (SCHEV), and a hospital Board.  While serving as a member of the Board of Directors of the Emily Green Shores assisted living facility, a non-profit facility in Portsmouth, he served as the Board's Treasurer.  He also served for a decade on the Board of Directors for Portsmouth Volunteers Homeless, and he was Board President for three years.  John also has served on the Executive Committee of the Virginia Municipal League and the chairman of the VML's Urban Section and the VML's Finance Policy Committee.
He is currently a member of the Board of Directors of The Elizabeth River Project and the President of Western Tidewater Chapter of the VMI Alumni Association.
John is married to Carol Evangelo Rowe of Portsmouth, Virginia.  Carol is a native of Portsmouth, and she is a 1965 graduate of Wilson High School and a graduate of James Madison University.  They have two adult children and three grandchildren.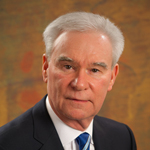 Robert Y. Green Jr.
Honorary Director
Rob Green is CEO of Caliper, Inc., a multi-million dollar global organization that supports some of the largest companies with human capital solutions. In addition to Caliper, Mr. Green has also been a minority owner of SJS Executives d/b/a FPC of Hampton Roads, which supports task orders for the federal government and military agencies.
Mr. Green is a member of both the Association of General Contractors of Virginia and the American Staffing Association. Previously, he served as director for Gateway Bank & Trust from 2000-2009. He received a Bachelor of Science in Business Administration from Christopher Newport College when it was a branch of the College of William & Mary, and is a graduate of the Newport News Shipbuilding Apprentice School.
Mr. Green is active in his community through the Virginia Beach Chamber of Commerce, the Propeller Club, PiN Ministries (a homeless outreach in the Virginia Beach area), PingPongforPoverty, and is an Emeritus Board Member of the Virginia Beach Neptune Festival.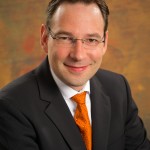 Christian Koestler
Honorary Director
Christian Koestler was Vice President of Operations for STIHL Inc., the headquarters for U.S. operations for the worldwide STIHL Group, located in Virginia Beach.
While at STIHL, he was responsible for directing U.S. activities in the areas of manufacturing, engineering, materials and procurement, logistics, buildings, maintenance and quality assurance.
Under Mr. Koestler, STIHL became a great supporter of Tidewater Community College. The company provided much of the equipment for the college's Precision Machining Lab on the Chesapeake Campus. STIHL and TCC continue to collaborate on advanced manufacturing training and apprenticeships.
A native of Munich, Mr. Koestler returned to Germany in 2015 to become chief operating officer of Dehn & Söhne GmbH + Co.KG., a leading provider of protection technology.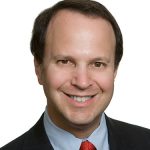 Foundation Counsel
William (Bill) Nusbaum
Shareholder, Williams Mullen